Gold Eagle's Force of Nature BN RE OA AXJ AXP MJP NFP WC CCA VC
Sire: Sunshine Good Time Henry MH WCX
Dam: Heckels Guns A Blazing Suzy Q RN
Whelped: May 30, 2008
CHIC #69834
Hips: GR-101158E24F-VPI "Excellent"
Elbows: GR-EL22544F24-VPI "Normal"
Heart: GR-CA18257/24F/C-VPI "Normal"
Eyes: GR-EYE8264/86F-VPI
Thyroid: GR-TH1846/24F-VPI "Normal"
Ichthyosis: 12-6987 Carrier
prcd PRA: 12-6987 "Clear/Normal"
GR-PRA1: 12-6987 "Clear/Normal"
GR-PRA2: 15-2158 "Clear/Normal"
NCL: 131726 "Clear/Normal"


Description: 22" and 52 lbs, Shelby was finding, flushing, and retrieving birds under gun at 7 months. Shelby is a real team player and has a fun loving spirit that is propelling her through the rally, obedience, and especially agility trials. She is an enthusiastic gundog that works close and is a pleasure to hunt. Much like her siblings, Shelby is versatile Golden performing in many different venues.
Achievements:
Mar 28th, 2018 Shelby new title at Timber Ridge, MJP, Master Jumper Preferred!
Mar 9, 2018 Shelby has completed the AXP!
2017 has been a banner year for Shelby! Since dropping to the 16 inch preferred class, Shelby has earned 5 new titles and collected 20 blue ribbons! Shelby's 2017 titles include NAP, OAP, OJP, AJP, and NFP.
Feb 1, 2015 Shelby completed the RE (Rally Excellent) title in B class with scores of 88, 97, 77 and two second placements.
July 25, 2014 After earning the titles and certificates RA, AXJ, WC, and CCA, Shelby received the GRCA's VC (Versatility Certificate).
July 25, 2014 AXJ Excellent Agility Jumpers, 1st, 1st, and 1st placements. Shelby is having fun and running 4.6 yards per second.
Mar 24, 2013 OA Open Agility standard, 1st, 1st, and 4th placement
Mar 23, 2013 OAJ title, 1st, 1st, and 2nd place finishes!
Nov 11, 2012 NJP agility title with 3 first place finishes including one at the 2012 GRCA Nationals!
Sept 29, 2012 Shelby goes elbow deep in the mud to earn the WC!
Sept 6, 2012 Beginners Novice title at the 2012 GRCA Nationals!
Sept 3, 2012 First place in 16" Nov P JWW at GRCA Nationals! 20 full seconds under course time!
Sept 3, 2012 CCA at Nationals! Shelby's Judges just loved her coat, top line, and front assembly.
Mar 17, 2012 Shelby completes the Rally Advance title at Badger KC.
Feb 18, 2012 Shelby earns Novice Agility Jumpers title with
scores of 87, 95, and 100.
Jan 29, 2012 Shelby completes the Novice Agility title, 20"standard.
Feb 12, 2009 Shelby completed the Rally Novice title at 10 months.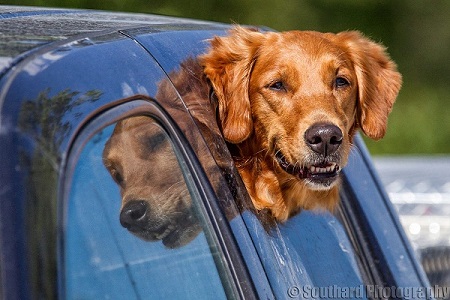 Pedigree

Parents
GrandParents
GreatGrandParents
SIRE

Sunshine Good Time Henry MH WCX

Counterpoint's Captain MH WCX OS

Erinhills Fly The Bunker Can SH
Jaybar's Unsinkable MH ***
High Times Sunshine Fancy
U-CDX HR OTCH High Times Can't Touch This UDX10 MH WCX OS
High Times Amazing Grace MH WCX

DAM

Heckels Guns A Blazing Suzy Q RN

Heckels Majestic Top Gun
Golden Brooklyn Brooks
Heckels Majestic Molly
Blaze Zoe Stroess
Mitchell's Sir Gordon
Heckels Majestic Maggy RN