About Us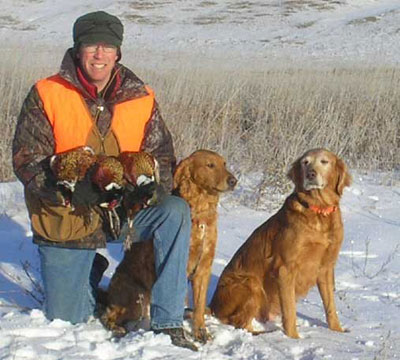 Chris, Suzy, and Maggy
Located in Marshfield WI, half-way between Greenbay WI and Minneapolis MN, there are ample opportunies to work Golden Retrievers in the farm fields and ponds for waterfowl and upland game. I never thought bird hunting could be so much fun until I purchased my first Golden back in 1998. I enjoy training and competing with the dogs in Hunt Test, Agility, and Rally/Obedience. Hunting the Dakotas for pheasant has become a yearly tradition.
There are two reasons I breed Golden Retrievers. One is to create memories, like in the photo above, and the other is for a chance to improve the Golden Retriever breed. Nothing thrills me more than getting letters and photos of Gold Eagle pups in action.
I also raise 600 acres of corn, soybeans, and wheat along with the Goldens. The dogs are always eager to help scout fields and locations where we might set up a goose blind. So I do plan litters around the busy spring planting and fall harvest/hunting seasons.
Member of:
GRCA
Golden Retriever Club of America
NFGRC
Northern Flyway Golden Retriever Club
President:
MAKC
Marshfield Area Kennel Club
Christopher Heckel
11615 Co Hwy Y
Marshfield WI 54449
715-937-4881 cell