About Us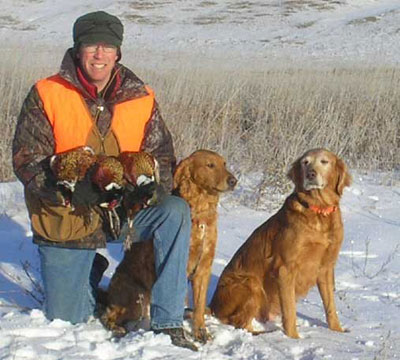 Chris, Suzy, and Maggy
Located in Marshfield WI, half-way between Greenbay WI and Minneapolis MN, there are ample opportunies to work Golden Retrievers in the farm fields and ponds for waterfowl and upland game. I never thought bird hunting could be so much fun until I purchased my first Golden back in 1998. I enjoy working the dogs in timed hunting events, Hunt Test, Agility, and Rally/Obedience. We also enjoy hunting the Dakotas and have now made it a yearly tradition.
There are two reasons I breed Golden Retrievers. One is to create memories, like in the photo above, and the other is for a chance to improve the Golden Retriever breed. Nothing thrills me more than getting photos of Gold Eagle pups in action. Whether they are hunting, hunt testing, in obedience, agility, or rally trials.
I also raise 450 acres of corn, soybeans, and wheat along with the Goldens. The dogs are always eager to help scout fields and locations where we can set up a goose blind. So I do plan litters around the busy spring planting and fall harvest/hunting seasons.
Member of:
GRCA
Golden Retriever Club of America
NFGRC
Northern Flyway Golden Retriever Club
President:
MAKC
Marshfield Area Kennel Club
Christopher Heckel
11651 Co Hwy H
Marshfield WI 54449
715-384-9599 home
715-937-4881 cell