Dual Registered
UH HRCH Mollee Sherwood MH CGC
500 UKC Points
Sire: Choctaw's Bark at the Moon Am/Can ** MH WCX
Dam: Heckels Majestic Daisy Mag RN
02/06/2006 - 07/11/17
Breeder: Christopher Heckel
Owner: Bob and Deanne Sherwood, Lindenhurst IL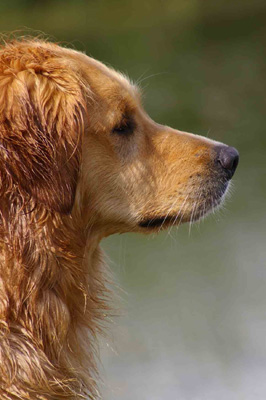 Mollee earning the Senior Hunter title Aug 28 2010 at Valders WI.

Quote from owner/trainer/handler Bob Sherwood 4/21/09:
"Time to change your web site Molllee is now UH HRCH Mollee. We went to Horicon this weekend and had 2 good days passed both days and thatís what we needed for the title. We ran a great water test Saturday AM I handled well and she did great work. In the PM on land we had a little problem on the blind getting stuck on one of the old falls but again handled well and she took good casts. She is marking great, as good as any dog the experienced guys that help me have seen. She is getting very fast, not the best thing when running blinds for me, but fun for the gallery to watch, she is turning in to a BIG AIR dog on her water entries she gets lots of attention after she runs a water test. Sunday AM we started on water, great marks as usual had a little suction problem on the blind but got through it, I thought we needed a real good land test to pass and we did have a great land test. Mollee is a Finished hunting retriever pretty cool, also with a lot of help from WISILL and other HRC people I trained and learned how to handle a finished dog."
Jan, 2010: Mollee earned the CGC (canine good citizen award)
and became a certified therapy dog from TDI.