Luebke's Double Win Situation CD GN RE
Sire: Choctaw's Fly'n High Again JH
Dam: Heckels Majestic Maggy RN
02/09/2006 - 08/03/2017
Breeder: Christopher Heckel

Owner/handler: Monika Luebke, Neillsville WI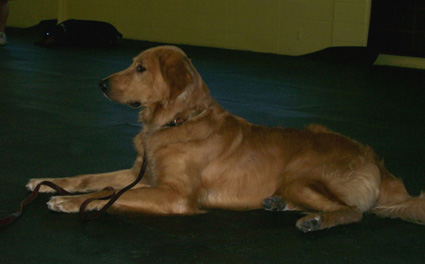 Description: Winston was a fun loving high energy boy who liked to be the life of the party and wanted to be everybody's best friend. He enjoyed the Obedience and Rally trials, but was just as excited to be in the field retrieving goose or grouse. Without a doubt, his favorite days were spent at the lake chasing ducks or retrieving bumpers. Winston was Monika's Novice A dog, her first competitive Golden. She and Winston learned to play the obedience and hunting games together becoming an inseparable team.
Achievements: Winston finished his RN in three straight shows with scores of 89, 92, 94 earning two second place ribbons.
June 13, 2009 Winston earned his Canine Good Citizen award and Therapy Dog certificate.
Aug 7, 2011 Winston earned his BN (Beginners Novice) title with two 1st place and a 2nd.
Aug 19, 2011 Winston earns his CD (Novice Obedience title) with two 1st place and a 2nd. Scores of 191 1/2, 192, 193 1/2
Jan 15, 2012 Winnie entertains the crowd with his pure enthusiasm and achieves the Rally Advanced title at Oshkosh.
Mar 17, 2012 Winnie does it again! New Rally Excellent title with his usual flare and high scores, earning himself a spot at the 2013 AKC National Rally Invitational in Tulsa OK!
July 21, 2013 Winston completed the GN (Graduate Novice) title at Wausau WI.