Presents
"Reva"
Gold Eagle's Rendezvous BN RA MX MXB MXJ MJB NAP OF T2B ADHF
Sire: High Times Big Dog Daddy** CD MH
Dam: Heckels Majestic Daisy Mag RN
Whelped: (02/22/2010) - (04/26/2022)
owner Monika Luebke
co-owner Christopher Heckel
Hips: GR-105686G25F-VPI (Good)
Elbows: GR-EL26532F25-VPI (Normal)
Heart: GR-CA21911/25F/C-VPI (Normal)
Eyes: GR-367416 (2012-26) (Clear)
Ichthyosis (affected)
prcd PRA Optigen 14-9603 (Normal)
GR_PRA1 Optigen 14-9603 (Normal)
GR_PRA2 Optigen 14-9603 (Carrier)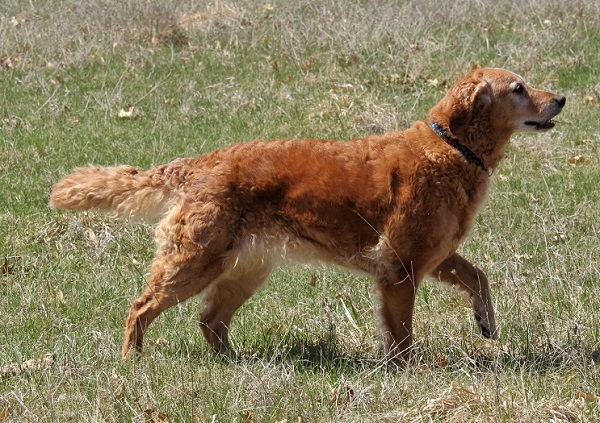 k9data pedigree: Gold Eagle's Rendezvous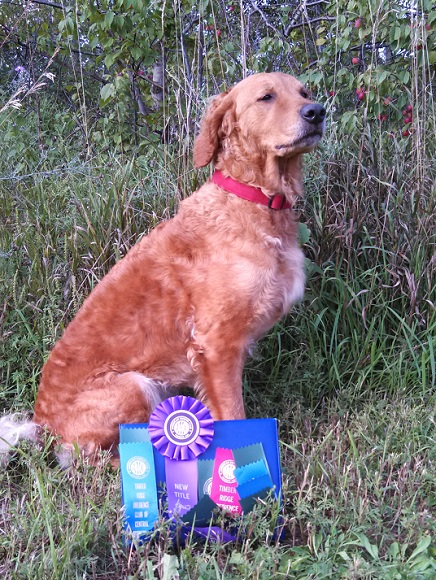 Reva looking rather proud of herself.
Triple Q, two open class legs and new NF agility title

Achievements:

Nov 26th 2021 Monika and Reva earn the final point needed to enter the Gold Retriever Agility Hall of Fame!
Nov 23rd 2019 Reva achieved the MXB for earning 25 qualifying scores in Master Standard course.
July 1st 2018 Reva achieved the MXJ and earlier in 2018 the MX title, Master of Agility titles in both Standard and Jumpers class!
Feb 19th 2017 Reva and Monika completed the AX (Agility Excellent) title at the MAKC trial!
Mar 26th 2016 Reva and Monika achieved the AXJ (Agility Excellent Jumpers)!
July 25th 2015 OA title for Reva and Monika. Running with the big dogs!
June 27th, 2015 OAJ Monika and Reva completed the Open Agility Jumpers title.
Aug 31st, 2014 Just for fun Reva earned the NF (novice fast) agility title. She just loves the game.
July 26th 2014 NA Novice Agility title for Reva.
May 3rd 2014 NAJ Novice Agility Jumper 20"
Dec 15th 2013 Reva completes the NAP (novice agility preferred) title with ease and three First placements.
July 21st 2013 Reva earns the RA (rally advanced) title at Paper Cites Kennel Club with really nice scores of 96, 97, 96, and two red rosettes!
Aug 17th 2012 Reva completed the Beginners Novice obedience title with a score of 191.
May 16th 2011 Reva received the Rally Novice title. She earned her first leg 6 months from whelp.
Pedigree

Parents
GrandParents
GreatGrandParents
SIRE

High Times Big Dog Daddy CDX MH ** OS MNR

CHIC#58380

High Times Run'n the Roost *** UD MH OS

CHIC#7302

OTCH Tanbark's Solar Eclipse UDX JH WC OBHF OS, Can CD
High Times Rollin Thunder UD MH WCX OD
High Times Indomitable You ** UD MH WCX
Timberee at Monument Canyon ** CDX MH WCX OS
High Times Rumor Has It *** CD MH WCX OD

DAM

Heckels Majestic Daisy Mag RN

CHIC# 40045

Mitchell's Sir Gordon
Quartermoon's Bearrug MH WCX **
Buckshot's Brassy Honey

Heckels Majestic Maggy RN

CHIC# 40044

Butch Cassidy Sundance III
Heckels Majestic Molly