Presents
Gold Eagle Red River Raji CD BN RE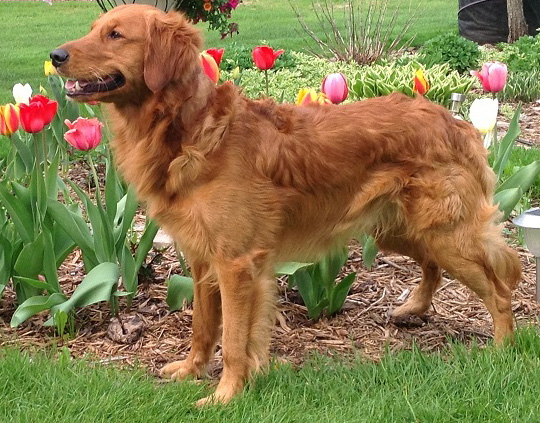 Sire: Sunshine Goodtime Henry MH WCX
Dam: Heckels Guns a Blazing Suzy Q RN
Whelped: 01/26/2011
Breeder: Christopher Heckel
Owner: Myron Genrich Jr.
Achievements:
2014 Raji completed the CD (Companion Dog) title and qualified for the AKC National Obedience Classic in Orlando FL.
Oct 6th, 2013 New BN (Beginners Novice) for Raji at Sheboygan Dog Training Club with a score of 199 and 1st palcement! Legs one and two, Raji scored a pair of 197's
Aug 18, 2013 Raji completed the RE (Rally Excellent) title at the Cranberry Classic in Marshfield.
July 28, 2013 Raji received his RA (Rally Advanced) title at Waukesha in three straight trials with an average score of 99!
May 19, 2013 Raji earns the Rally Novice title, three 1st place finishes, with an average score of 98.6
Pedigree

Parents
GrandParents
GreatGrandParents
SIRE

Sunshine Goodtime Henry MH WCX

Counterpoint Captain MH WCX OS

Erinhills Fly the Bunker Can SH
Jaybar's Unsinkable MH ***
High Times Sunshine Fancy
U-CDX HR OTCh High Times Can't Touch This UDX10 WCX MH OS
High Times Amazing Grace MH WCX

DAM

Heckels Guns a Blazing Suzy Q RN

Heckels Majestic Top Gun
Golden Brooklyn Brooks
Heckels Majestic Molly
Blaze Zoe Stroess
Mitchell's Sir Gordon
Heckels Majestic Maggy RN