Presents
"Rookie"
Wynwood's Gold Eagle Heartbreaker JH WCX




Sire: FC AFC Glenhaven HTRS MN Baronet MH OS FDHF

Dam: SHR AG1 Wynwood Joker's Last Hoorah UD MX MXJ SH WCX OD


Whelped: March 8th, 2013
Breeder: Bobbie Williams & Renee Schulte
Owners: Jill Richardson, Christopher Heckel, & Renee Schulte
Hips: GR-11482G28F-VPI
Elbows: GR-EL34264F28-VPI
Eyes: "Normal" CERF GR-383471-23
Heart: "Normal" GR-CA27805/55F/C-VPI
Ichthyosis: "Carrier"
prcd PRA: "Clear" by Parentage
GR-PRA1: "Clear" Optigen 15-2156
GR-PRA2: "Clear" Optigen 15-2156

NCL: "Clear/Normal" U of MO 131725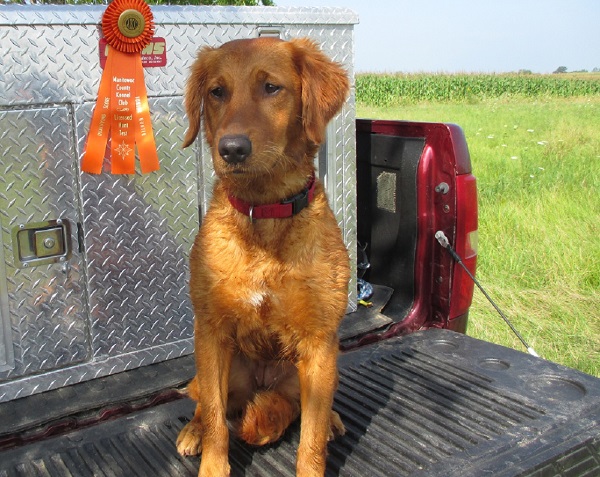 Click here for Rookie's k9data pedigree
Rookie is a 48# fun-lovin' pistol! She has a positive energy and is a good marking dog. Rookie goes fast and comes just the same on land or water. She is sweet, likes people, kids, and plays like a puppy with other dogs. Rookie is tough enough to run down a crippled rooster and gently kiss your cheek at the end of the day.
Sept 9th, 2017 Rookie achieved the WCX at NFGRC. She smacked the land triple, picked up the water double retrieve, and respectfully honored another dog to complete the test.
July 31st, 2015 Rookie nailed her marks and became a Junior Hunter at Watopa Retriever Club!
Pedigree

Parents
GrandParents
GreatGrandParents
SIRE

FC AFC Glenhaven HTRS MN Baronet MH OS FDHF

AFC Glenhaven Devil's Advocate UDT MH WCX OS FDHF

Smoke'N Red Apache *** WCX OS
OTCH Meadowpond Especial One UDT SH WCX OD OBHF
Hunters Moon Tam O Shanter ** OD
Wraith's Duncan MH *** OS
Hunter's Moon Madcap *** OD

DAM

SHR Wynwood Joker's Last Hoorah CDX NA SH WCX

AFTCH MHR Wynwood's Jokers Are Wild MNH CD WCX OS Can. CDX MH WCX ***
OTCh Wynwood's Thrill Of It All UDX JH Can. CD U-CD OBHF OS
Wynwoods Cheer From Lochbrae CDX JH OD
SHR Ambertrails Say What U Want MH CCA WCX OD
Can. Triple CH FTCH AFTCH OTCH Firemark's Push Comes to Shove Can. WCX Am. *** OS
Ambertrail Sparks To A Flame OD Can QFTR JH WCX