Presents
Gold Eagle's Hooray for Hazel RA ACT2 CGC
Sire: Gold Eagle Murphy on the Mark CD BN RE JH WCX CCA
Dam: Gold Eagle's Force of Nature BN RE OA AXJ NJP WC CCA VC
Breeder: Christopher Heckel
Whelped: 08-28-2013

Owner: Jon and Pat Kester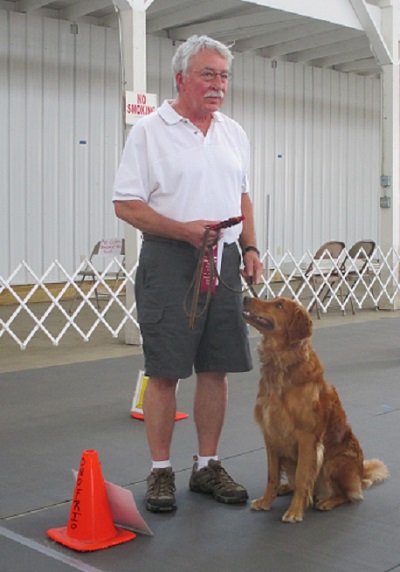 Jon and Hazel accepting their Rally Novice title!
Achievements:
Feb 19th, 2017 Hazel and Jon pass the ACT1 and ACT2! (Agility Course Test)
Aug 21st, 2016 Jon and Hazel completed the AKC Rally Advanced title with multiple first place finishes!
Aug 16th, 2015 Jon and Hazel came to Marshfield to finish the Rally Novice title with fantastic scores and great teamwork!
Pedigree

Parents
GrandParents
GreatGrandParents
SIRE

Gold Eagle Murphy on the Mark CD BN RE JH WCX CCA

Choctaw's Fly'n High Again JH

Belvedere's Fire Fly WCX
Cedarpond's Fat Bottom Girl WC
Heckels Majestic Maggy RN
Butch Cassidy Sundance III
Heckels majestic Molly

DAM

Gold Eagle's Force of Nature BN RE OA AXJ NAP NJP WC CCA VC

Sunshine Goodtime Henry MH WCX
Counterpoints Captain MH WCX OS
High Times Sunshine Fancy
Heckels Guns a Blazing Suzy Q RN
Heckels Majestic Top Gun
Blaze Zoe Stroess