SHR Gold Eagle's Trix of the Trade CD BN RN OA OAJ WC CCA

Sire: HRCH High Times Applejacks Mike MH61 HTHF WCX CCA **
Dam: Gold Eagle's Spice of Life "Ginger"
Whelped: Nov 30, 2015
Hips: GR-124878G38F-VPI "Good"
Eyes: GR-EYE10934/80F-VPI (8/22) "Normal"
Elbows: GR-EL40890F25-VPI "Normal"
Heart: GR-ACA1834/24F-VPI "Normal"
prcd PRA: Pawprints 35173 "Clear"
GR-PRA1: Pawprints 35173 "Clear"
GR-PRA2: Pawprints 35173 "Clear"
Ichthyosis: Pawprints 35173 "Clear"
NCL CLN5-GR: U of MO 139344 "Clear"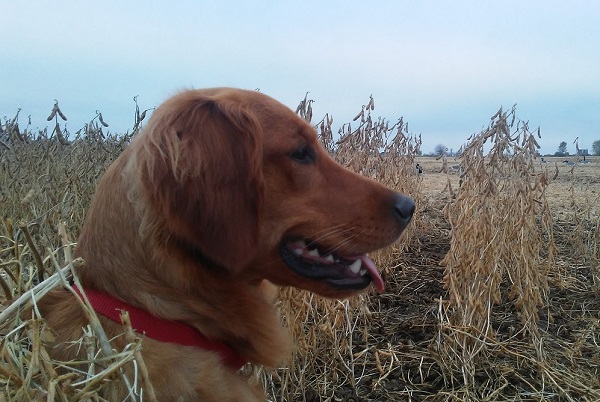 Trix in the Pup Hut waiting on the geese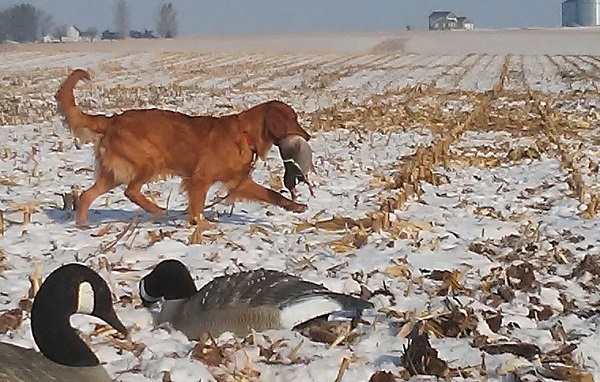 Trix with Mallard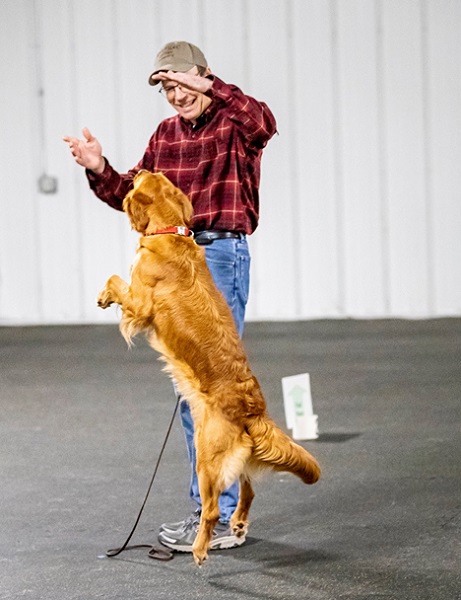 Description: In one word, FUN! Trix has an abundance of energy and drive yet very steady in the blind or on the line. Trix has exceptional marking ability and will brave the icy waters for a retrieve. Whatever game we play, Trix makes the most of it and even finds obedience to be a thrill!
Trix is 21 inches high and 52 lbs. She has a straight easy-care coat that makes for quick cleanup after a day's hunt. Trix is an exceptional genetic specimen of the Golden Retriever breed with a great deal of longevity in her pedigree.
Achievements:
Nov 6, 2022 Trix finished the Companion Dog title while earning nice scores of 193 and 1st place at MAKC, a 193 1/2 and 2nd, and tying for 2nd with a 189 1/2 which resulted in our first ever run-off at Timber Ridge.
2021 Titles and Certificates: Beginners Novice, Open Agility, Started Hunting Retriever, and GRCA Working Certificate
Jan 19th 2020: Trix completed the third leg for the OAJ (open agility jumpers) title.
Nov 9th 2019: Trix earns the Novice Agility title at the Timber Ridge trial.
Nov 2nd 2019: Trix is awarded the Certificate of Conformation Assessment by the Golden Retriever Club of America with high scores for her coat, fore quarters, and temperament.
June 16th 2019: Trix completed the Novice Agility Jumpers at MAKC.
Pedigree

Parents
GrandParents
GreatGrandParents
SIRE

HRCH High Times Applejacks Mike MH61 HTHF WCX CCA **

UH Trifecta's Shag-edelic CD MH WCX CCA ***VCX OS

AFC Emberain Rugby WCX OS FDHF
Trifecta's Audie Cum Laude MH *** OD
HR High Times Cookin' Cajun SH WCX CCA OD
High Times Run'n the Roost UD MH50 WCX *** OS
UCD UH HRCH High Times Finn Fatale CD SH WCX OD

DAM

Gold Eagle's Spice of Life "Ginger"

Sunshine Goodtime Henry MH WCX
Counterpoints Captain MH WCX OS
High Times Sunshine Fancy
Heckels Guns A Blazing Suzy Q RN
Heckels Majestic Top Gun
Blaze Zoe Stroess