SHR Gold Eagle's Mighty Oak CD BN RE NA NAJ TKI JH WC
Sire: Max Q Saint Louie RN MH CCA *** VCX
Dam: Wynwood's Gold Eagle Heartbreaker JH WCX OD whelped: Sept 10th 2018 owners: Cassie Timm & Christopher Heckel
hips: GR-131072E24M-VPI (Excellent)
PENN hip: .34/.38
elbows: GR-EL50664M24-VPI (Normal)
heart: GR-ACA6211/M-PI (Echo Normal)
eye: GR-EYE17395/35M-VPI (8/21, D1b, D1c)
thyroid: GR-TH3860/38M-VPI (Normal)
dentition: GR-DE923/12-VPI (Full /w scissor bite)

Oakley, Junior Hunter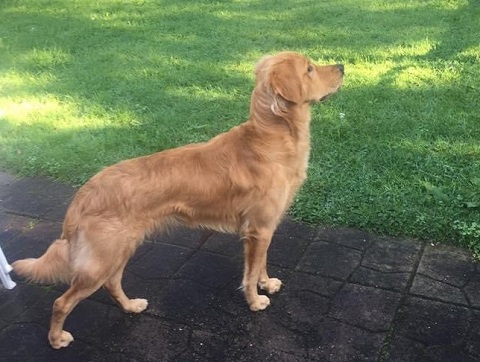 Oakley at 1 year
Description: Oakley is 23 1/2 in high and 63lbs. Oakley's strengths are in his easy early training and trustworthy temperament. He is well driven, energetic, and eager to offer wanted behaviors. Oakley is always looking to please and has excellent mouth habits.
Oakley's 3 generation pedigree consist of 5 Field Champions, 4 All Age dogs, 6 Master Hunters, and 12 Outstanding Sires and Dams!
Overall, Oakley's structure is well above average and balanced, which helps him move with ease and with great speed.
Pedigree

Parents
GrandParents
GreatGrandParents
SIRE

Max Q Saint Louie RN MH CCA *** VCX

Firemark's Prayer of Jabez ***OS

AFC Emberain Rugby WCX OS FDHF
Firemarks Start Your Engines*** OD
River Bottom's Max Q AnnieRN MH QA2 CCA *** VCX OD
FC AFC Lacrosse Max Q Jake JH OS FDHF
Flint Oak Copper

DAM

Wynwood's Gold Eagle Heartbreaker JH WCX OD

FC AFC Glenhaven's HTRS MN Baronet MH OS FDHF
AFC Glenhaven Devil's Advocate UDT MH WCX OS FDHF
Hunters Moon Tam O Shanter ** OD
MACH SHR AG1 Wynwood Jokers Last Hoorah UD SH WCX OD
AFTCH MHR Wynwood's Jokers Are Wild CD MNH WCX OS Can. CDX MH WCX ***
SHR Ambertrails Say What You Want CCA WCX OD