Gold Eagle Murphy on the Mark CD BN RE JH WCX CGC CCA
Sire:
Chotaw's Fly'n High Again JH
Dam: Heckels Majstic Maggy RN
02/09/2006 - 08/28/2019



OFA CHIC# 52507
Hips: GR-94815G24M-VPI Good
Elbows: GR-EL17347M24-VPI Normal
Heart: GR-CA14977/30M/C-VPI Normal
Eyes: CERF GR-EYE8271/114M-VPI
Thyroid: GR-TH1657/40-VIP Normal
Ichthyosis: "Carrier"
prcd PRA: "Clear"
GR_PRA1: "Clear"
GR_PRA2: "Clear"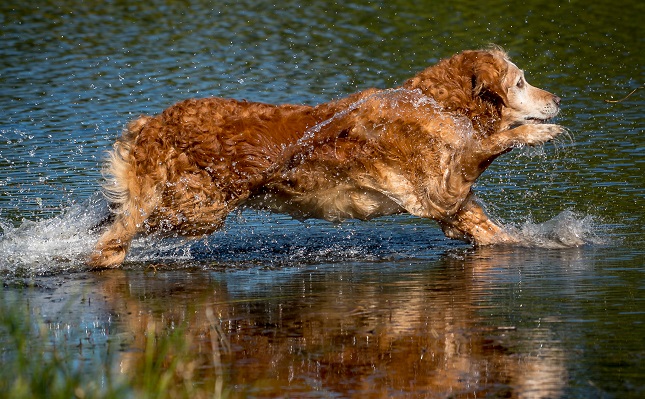 Murphy at WCX Hunt Test
Description:

Gold Eagle Murphy on the Mark is 24 1/4" at the withers and is 70 lbs. He has a brilliant golden coat and the perfect Golden temperament. Murphy has a pleasing expression and well built front assembly which helps him move with ease. He is an intensely driven dog with an incredible nose. Murphy has often been complimented on his great marking skills and his confidence in the water by hunt test judges.

Murphy provides a good health package in a sire and can preserve the Golden temperament and natural bird desire. He can be put away wet and in 13 1/2 years has never had a hot spot or ear infection. Murphy's offspring are proving to have superior marking ability and a high level of natural prey drive. His offspring are eager workers that have a medium/high energy level and a friendly attitude towards people and other dogs.
Aug 21, 2016 Murphy completed the Rally Excellent title at our home club in Marshfield.
April 30, 2016 Murphy passed the WC again at the Golden Retriever Central Specialty. He received a special award for being the oldest dog to pass at 10 yrs and 2 months.
Sept 28, 2013 WCX for Murphy at NFGRC!
Dec 2, 2012 Murphy finished the CD in Nov B at Badger KC! The week before he was busting ice for Canadian geese! Good Dog!
Feb 5, 2012 Murphy completes the BN at Timber Ridge.
Nov 5, 2011 Three qualifying scores for the CCA at NFGRC. All of the judges liked his front shoulders and easy movement.

Quoting judge Marcia Schlehr

"Murphy is a nice working type Golden, moves well, and is well proportioned"

.
Oct 2, 2011 Final leg and Junior Hunt title at Skunk River IA. Passed in 4 straight test, 16 birds, no handling needed.
Sept 10, 2011 Murphy recieved his WC at Northern Flyway Golden Retriever Club
August 16, 2009 Murphy earned his Rally Advanced title with First and Third place finishes

.
June 13, 2009 Murphy earned the Canine Good Citizen award.
April 12, 2008 Murphy received his Rally Novice title in three straight trials.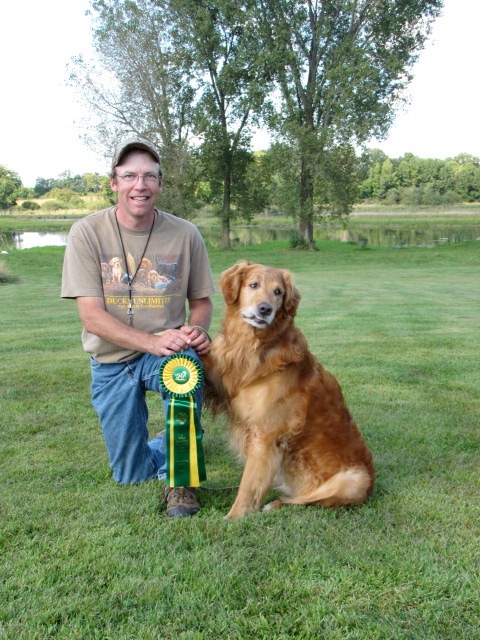 Murphy's WC
Pedigree of " Gold Eagle Murphy on the Mark"

Parents

GrandParents

GreatGrandParents

SIRE

Chotaw's Fly'n High Again JH

Belvedere Forever Raisn' Cain ***

Belvedere's Bon Ami SH WC

Cedarpond's Fat Bottom Girl WC CHIC#13390

Wraith's Ducan MH *** OS

NAFTCH FTCH Brasdor's Razzl Dazzl Am.*** OD Can. FDHF

DAM

Heckels Majstic Maggy RN CHIC# 40044

Butch Cassidy Sundance III

Kaelis Bark'n Bite

Golden Goddess Callie

Heckels Majestic Molly OFA "Good"

Horns Buster Yorkster

Horns Princess Penny